Our librarian in the Unipress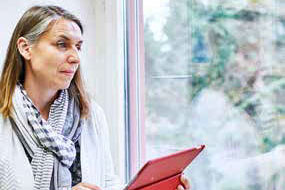 06.07.2016
A portrait of our head librarian Doris Kopp is published in the newest edition of Unipress.
Zwischen Zettelkasten und Datenbank
Aus Liebe zum Buch wurde sie Bibliothekarin, mit Büchern hat sie allerdings kaum mehr zu tun: Doris Kopp, Leiterin der Bibliothek am Institut für Sozial- und Präventivmedizin, ist Expertin für Literaturrecherche. Ohne sie sässen viele Forschende in der Klemme...
Read the whole portrait as PDF:

Or follow the link to Unipress No. 168: