Cancer in Switzerland – the Swiss Cancer Report 2015 is out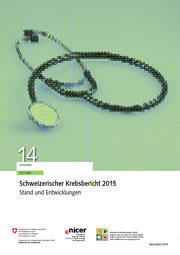 Which cancer types are most common? How often are children diagnosed with cancer? Does cancer-related mortality increase? Are all regions in Switzerland equally affected?
Today, 21.03.2016, the Federal Statistical Office, the National Institute for Cancer Epidemiology and Registration and the Swiss Childhood Cancer Registry publish the Swiss Cancer Report 2015. This report contains the newest available data for cancer in Switzerland.