Paediatric Cancer Epidemiology Group
The Swiss Childhood Cancer Registry (SCCR) collaborates closely with the Swiss Pediatric Oncology Group (SPOG). This large national, population-based database includes detailed information on diagnosis, therapy and outcome for over 8600 children who have been diagnosed with solid tumors, leukaemia or lymphoma in Switzerland since 1976. Research projects associated with the SCCR assess incidence, causes, prognosis and late effects of childhood cancer in Switzerland.
Group members
Group leader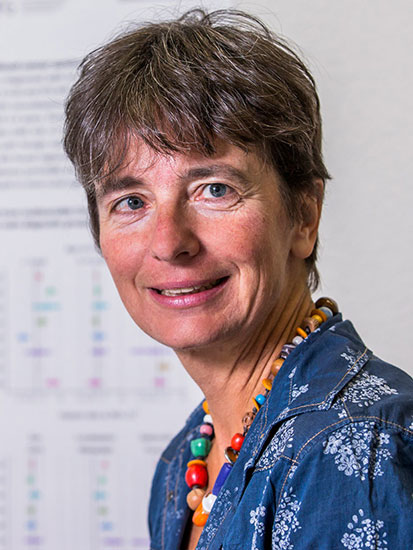 Name / Titel

Funktion

Head of Research Group

Mail
Phone
Group members
Ongoing projects
Ongoing projects
Swiss Childhood Cancer Registry (SCCR)
Claudia Kuehni, Verena Pfeiffer, Käthi Flandera, Marlen Spring, Priska Wölfli, Shelagh Redmond, Christina Krenger, Parvinder Singh
The SCCR is a national, population-based cancer registry for children and adolescents diagnosed with cancer. It collects data on new cancer diagnoses and documents the treatments and long-term follow-up. Through this it contributes to understanding causes of cancer with the ultimate goal to prevent them. It helps to continuously improve treatments, while aiming to avoid or minimise late effects.
Swiss Childhood Cancer Survivor Study (SCCSS)
Claudia Kuehni, Grit Sommer, Rahel Kasteler, Rahel Kuonen, Annette Weiss, Laura Wengenroth, Erika Brantschen-Berclaz
This questionnaire survey studies long-term consequences of childhood cancer in Switzerland. It assesses somatic and psychosocial late effects, health-related quality of life, health behavior and health care in long-term survivors of childhood and adolescent cancer.
PanCare Studies in Fertility and Ototoxicity to Improve Quality of Life after Cancer during Childhood, Adolescence and Young Adulthood (PanCareLIFE)
Claudia Kuehni, Rahel Kuonen, Grit Sommer, Annette Weiss
This European study investigates the impact of treatment regimes on the long-term health of childhood cancer survivors. It focuses on health-related quality of life, and the risks of decreased fertility and hearing loss. And it will develop guidelines to preserve fertility.
(Please note that only members of staff of ISPM Bern are listed.)
Completed projects
Completed projects
Mortality after cancer in children and adolescences
Claudia Kuehni, Matthias Schindler
This study focuses on survival of cancer in childhood and adolescence. We determine time trends and factors associated with childhood and adolescent cancer survival and we investigate cause specific long-term mortality in 5-year survivors of childhood cancer.
PanCare Childhood and Adolescent Cancer Survivor Care and Follow-up Study (PanCareSurFup)
Claudia Kuehni, Rahel Kuonen, Matthias Schindler, Erika Brantschen-Berclaz
This European study investigates the impact of treatment regimes on the long-term health of childhood cancer survivors. It focuses on the following, severe somatic late effects: cardiovascular diseases, second malignant neoplasm and late mortality. Furthermore it will develop guidelines for long-term follow-up of childhood cancer survivors.
More information
Childhood cancer and background ionizing radiation
Ben Spycher, Claudia Kuehni, Matthias Egger, Marcel Zwahlen
Childhood cancer and vicinity of residence to petrol stations and major roads: a census-based nationwide cohort study
Ben Spycher, Matthias Egger, Claudia Kuehni, Adrian Spörri, Marcel Zwahlen
Childhood Cancer and Nuclear Power Plants in Switzerland (CANUPIS)
Claudia Kuehni, Matthias Egger
More information
Childhood leukaemia and lymphoma: are incidence and survival in Switzerland associated with socioeconomic status?
Martin Adam, Claudia Kuehni, Marcel Zwahlen
Completeness of cancer registration and diagnostic accuracy in the Swiss Childhood Cancer Registry: validation against independent sources of data
Martin Adam, Claudia Kuehni, Marcel Zwahlen
(Please note that only members of staff of ISPM Bern are listed.)