Pediatric Respiratory Epidemiology Group
Group leader: Prof. Dr. med. Claudia Kuehni
The Paediatric Respiratory Epidemiology Group studies the epidemiology of frequent and rare respiratory disorders during childhood and over the life course. Main areas of interest are asthma and other wheezing disorders, chronic cough, cystic fibrosis (CF), and primary ciliary dyskinesia (PCD).
We conduct population-based and clinical cohort studies (The Leicester Respiratory cohorts, the Swiss Paediatric Airway Cohort) and manage national databases and registries, such as the Swiss Primary Ciliary Dyskinesia Registry and the database of Swiss neonatal screening for CF. We also participate in collaborative national and international studies, such as the Swiss BILD cohort, EU FP-7 BESTCILIA, and the COST Action BEAT-PCD.
Research topics include the public health impact of respiratory disease, the role of behavioural and environmental influences on the development of respiratory disorders, disease phenotype definition, prediction of clinical course and long-term outcomes, and healthcare research.
Group members
Group leader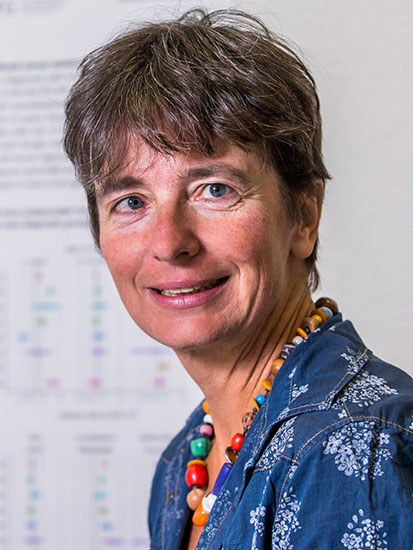 Name / Titel

Funktion

Head of Research Group

Mail
Phone
Group members
Ongoing projects
International Primary Ciliary Dyskinesia (iPCD) Cohort
Claudia Kuehni, Myrofora Goutaki, Florian Halbeisen
The iPCD Cohort was established under the framework of the European Union's Seventh Framework Program (EU FP7) project BESTCILIA (Better Experimental Screening and Treatment for Primary Ciliary Dyskinesia-/2012-2016) and further developed in the BEAT-PCD COST Action (BM1407). It aims to identify and assemble all available datasets with clinical and diagnostic data from PCD patients worldwide to answer questions on clinical phenotype, disease severity, prognosis, and effect of treatments in patients with this rare multiorgan disease. It is an international cohort with retrospective and prospective design, combining available data on PCD from national or local registries and clinical or diagnostic databases. This combined international dataset allows investigation of PCD epidemiology in a large international study population in order to: 1) describe the spectrum of clinical phenotypes and disease severity in PCD patients by age, sex and time period of diagnosis; 2) describe short-term and long-term prognosis of PCD, looking at important outcomes such as growth, lung function and respiratory failure, bacterial colonisation, hearing loss, fertility, and mortality; and 3) identify predictors of long-term outcomes such as age at diagnosis, clinical phenotype, ultrastructural defects, genotype, and clinical care. Research is performed in close collaboration with all data contributors. The project is funded by the Swiss National Science Foundation (SNF 320030_173044).
National Registry for patients with Primary Ciliary Dyskinesia (Swiss PCD Registry)
Claudia Kuehni, Myrofora Goutaki, Florian Halbeisen
The Swiss PCD registry collects epidemiological and clinical information from all patients diagnosed with PCD in Switzerland. It contributes to our understanding of the epidemiology of this orphan disease, helps us to describe medical management, clinical course and quality of life, and allows us to identify patients for clinical studies. Anonymous data can be shared with the iPCD cohort study, the international PCD Registry, and other multicenter studies.
BEAT-PCD COST Action: Translational research in primary ciliary dyskinesia: bench, bedside, and population perspectives
Claudia Kuehni, Myrofora Goutaki, Florian Halbeisen
The BEAT-PCD Action (BM1470), funded by COST (European Cooperation in Science and Technology), aims to create a global multidisciplinary network of clinicians and researchers working on PCD. This network will promote research from basic science to clinical care, with the ultimate goal being to develop treatments that lead to measurable improvements in long-term outcomes of PCD patients. We represent Switzerland in the management committee of this COST Action.
Swiss Pediatric Airway Cohort (SPAC)
Claudia Kuehni, Eva Pedersen, Carmen de Jong, Myrofora Goutaki
The SPAC is a prospective observational clinical cohort study with a national multicentre set-up. The study includes children aged 0-16 years who are referred to outpatient clinics due to wheeze, recurrent cough, exercise- and sleep-related respiratory problems, or other nonspecific respiratory problems. It collects data on clinical symptoms, health behaviour and environmental factors through baseline parental questionnaires as well as medical data routinely collected in each outpatient clinic: clinical test results (e.g., lung function, allergy tests) and information on treatment and diagnosis. Patient recruitment began in 2017 and will initially include patients from pulmonary outpatient clinics in Bern, Zurich, Luzern, St. Gallen and Basel and at a later stage will expand to more hospitals and practices in Switzerland. The SPAC aims to describe the spectrum of respiratory symptoms and relative prevalence of these among patients referred to pulmonary outpatient clinics in Switzerland, as well as to document diagnostic practices, treatments, and preventive measures used in these clinics. The project is funded by the Swiss National Science Foundation (SNF 32003B_162820).
Defining phenotypes and risk factors of chronic non-specific cough in childhood
Claudia Kuehni, Maja Jurca, Ben Spycher, Myrofora Goutaki
This PhD project focuses on the epidemiology of chronic and recurrent cough in childhood by analysing original data from the Leicester respiratory cohorts and the BILD cohort, and by summarising the current evidence in systematic reviews. The project is funded by the Swiss National Science Foundation (SNF PDFMP3_137033).
Breastfeeding and respiratory outcomes from infancy to school-age: pathways and temporal sequence
Claudia Kuehni, Jingying Wang, Myrofora Goutaki
This SNF-funded project investigates the association between breastfeeding and respiratory outcomes from infancy to school age by performing systematic reviews and analysing original data from the Leicester respiratory cohorts, the Swiss BILD cohort and international cohort studies. The project is funded by the Swiss National Science Foundation (SNF 32003B_144068).
Cystic Fibrosis (CF) newborn screening
Claudia Kuehni, Maja Jurca, Carmen de Jong
Newborn screening for CF was introduced in Switzerland in 2011. The performance of the national screening program is continuously evaluated in a database hosted by ISPM Bern.
(Please note that only members of staff of ISPM Bern are listed.)
Completed projects
Observational trials in primary ciliary dyskinesia (WP1, BESTCILIA)
Claudia Kuehni, Myrofora Goutaki, Elisabeth Maurer, Florian Halbeisen
This project was part of BESTCILIA, an EU FP-7 project that aimed to characterise the clinical course of PCD and to improve diagnosis and treatment. Work package 1, led by ISPM Bern, identified, collected and analysed datasets on PCD patients from national registries or observational studies. With the resulting meta-cohort it is possible to i) describe the clinical presentation, growth and lung function over the course of life, ii) evaluate diagnostic examinations and evaluate treatments in use, and iii) evaluate long-term prognosis.
We were also involved in BESTCILIA work packages WP2 (development of an international PCD registry), WP4 (development of a PCD-specific health-related quality of life instrument) and WP5, the first randomised controlled trial (RCT) in PCD patients.
European Respiratory Society Taskforce: Diagnosis of primary ciliary dyskinesia (PCD) in the molecular age: a practice guideline for diagnosing patients with PCD
Claudia Kuehni, Myrofora Goutaki
This taskforce of the European Respiratory Society (ERS) developed a clinical practice guideline to improve the diagnosis of PCD.
Predicting onset and persistence of wheeze in children
Claudia Kuehni, Aniña Pescatore, Ben Spycher
More information
Alveolar growth and development in childhood measured by helium-3 magnetic resonance
Claudia Kuehni
More information
Primary Ciliary Dyskinesia in Children: a European survey
Claudia Kuehni, Marie Pierre Strippoli, Elisabeth Maurer
Please note that only members of the ISPM Bern staff (past and present) are listed.