CAS in Sex- and Gender-Specific Medicine: Start in March 2021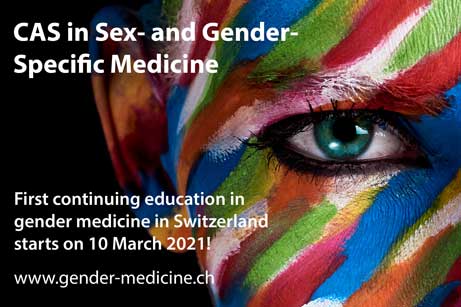 27.11.2020 - Understanding how sex and gender interact enhances the quality of science, health, and medicine. Covid-19 is an excellent example of this. We are therefore very pleased to announce the start of the continuing education course CAS in Sex- and Gender-Specific Medicine (www.gender-medicine.ch) with several speakers from ISPM in March 2021.
Both biology (sex) and sociocultural variables (gender) have a fundamental impact on health behaviour, as well as epidemiology, manifestation, and pathophysiology of diseases. Although sex and gender are essential to effective health care, differences between women and men are often neglected in medical research and clinical practice. The CAS study programme in Sex- and Gender- Specific Medicine is a part-time course at the Universities of Bern and Zurich aimed at postgraduates in medicine and life sciences. To meet the eligibility requirements for this CAS course candidates must hold a master's degree in either medicine or a related field.
The two-day modules can also be booked individually. The costs per module are CHF 960, the entire CAS costs CHF 9,400. PhDs receive a 50% discount.
Please refer to the module overview below or the website www.gender-medicine.ch for details of the course content and registration deadlines. The CAS is a collaboration of the Universities of Bern and Zurich and is coordinated at ISPM. If you have any questions, please do not hesitate to contact Amoya Ramseyer or Nicole Steck at info@gender-medicine.ch or 031 631 55 76.