Chlamydia screening trial prompts rethink about control strategy
13.11.2018
Opportunistic testing for the sexually transmitted infection, chlamydia, amongst young adults attending general practices, did not reduce prevalence after three years.
The research, published in The Lancet, found that although general practitioners (GPs) were able to increase testing among 16 to 29 year olds by 150% over a three-year period, it did not reduce the overall proportion contracting chlamydia. «This trial shows that evidence-based control of chlamydia and its complications will need more than just increased testing. Better clinical management of people with diagnosed chlamydia, treatment of sexual partners, and prevention of re-infection, are also needed», says ISPM's Professor Nicola Low, the senior author of the report.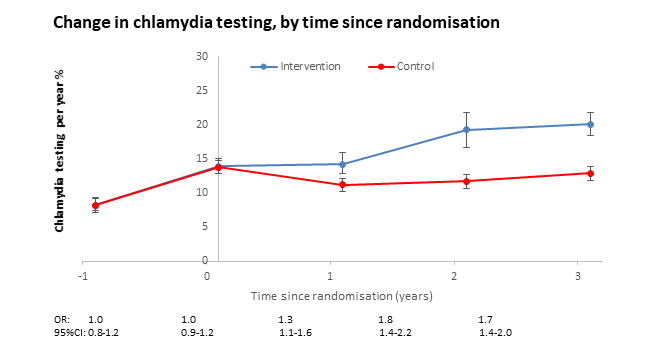 The Australian Chlamydia Control Effectiveness Pilot (ACCEPt) is the world's largest and most comprehensive trial of opportunistic chlamydia testing in primary care. Professor Jane Hocking at the University of Melbourne led the trial, with collaboration from Professor Nicola Low at the University of Bern, and from Monash University, University of New South Wales and Deakin University in Australia. The trial involved 130 rural GP clinics in Victoria, New South Wales, Queensland and South Australia, over 1200 GPs and more than 90 000 people aged 16-29.
Chlamydia is the most commonly reported sexually transmitted infection in Switzerland. It is hard to control because most people do not have symptoms and are unaware they have it. It is treated with a course of antibiotics. If left untreated, chlamydia can cause serious infections of the fallopian tubes and uterus (pelvic inflammatory disease - PID) in women, which can lead to hospital admission in severe cases and can ultimately cause infertility. Health departments in many high-income countries recommend testing young adults for chlamydia infection. «Opportunistic» testing means testing any young sexually active person visiting a GP or gynaecologist for any reason, whether or not they have symptoms.