Crowdfunding to support trial of chronic medicine dispensing machines in South Africa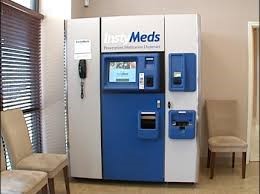 12.05.2017
1000 hackers gathered in nine regions on five continents around the world on March 10-12, 2017, to brainstorm solutions for three of the United Nations' Sustainable Development Goals. The winning proposal at the Geneva site was a pilot project to provide medicine dispensing machines in South Africa, presented by ISPM's "24/7 access to treatment team".
Ensuring round-the-clock access to drugs could help improve retention in care and consequently outcomes of HIV-positive patients in low- and middle-income countries. The project, which can be supported through crowdfunding until May 30, 2017, would examine the impact of installing a 24/7 medicine dispensing machine in a busy urban HIV clinic in South Africa.
The treatment team (ISPM's Matthias Egger, Julia Bohlius and Janet Michel) hypothesize that convenient access to medicine dispensing machines will decrease disengagement from treatment by people who are on anti-retroviral therapy or suffering from other chronic illnesses, ultimately improving health outcomes.