ISPM is celebrating its 50th birthday! Prevention today and tomorrow!
05.02.2021 – Since 1971, for 50 years, the Institute of Social and Preventive Medicine (ISPM) at the University of Bern has been devoted to the improvement of health and wellbeing of individuals and populations. Through high quality research in the fields of prevention, social medicine, epidemiology, biostatistics and public health and together with numerous national and international partners ISPM stands for health for all.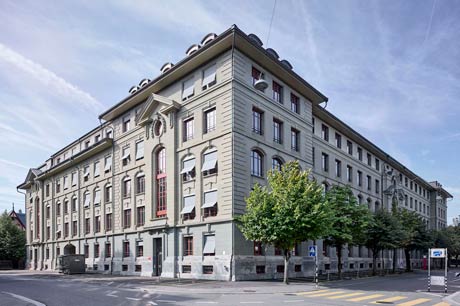 Besides top-quality research, ISPM is devoted to training the next generation of epidemiologists, public health researchers, and medical doctors, among others. ISPM actively participates in University teaching programs for students of medicine, pharmacology, biomedical engineering and biomedicine (including students from the University of Fribourg).
Furthermore, ISPM is key member in PhD and postgraduate programs of the University of Bern and the Swiss School of Public Health and offers three Certificate of Advanced Studies in clinical research, leadership, and management.
National and international collaborations are wide ranging, and include within the University of Bern, the Oeschger Center for Climate Change Research, Paraplegieforschung Schweiz Center for Space and Habitability, and Clinics of the University Hospital, and internationally the Schulich School of Medicine & Dentistry and the University of Western Ontario in Canada, the Fundacion Universitaria de Ciencias de la Salud in Colombia, Federal State Budgetary Organization National Cardiology Research Center of the Ministry of Health of the Russian Federation, and the Harvard School of Public Health in the United States (USA), among others.
Short history and background
Compared to our neighbouring countries, the academic anchoring of our subject began quite early, after having a long history in Anglo-Saxon countries, namely the USA and Great Britain. It began when, in the 1950s and early 1960s, a number of doctors from Switzerland, on their own initiative and often at their own expense, completed further training in public health and discovered modern developments within the fields of epidemiology and public health. Later, the National Fund of Switzerland offered scholarships to obtain a Masters of Public Health (MPH), which led to Switzerland having approximately 60 trained specialists in this field until the introduction of its own MPH training courses in the early 1990s.
A pioneer of this wave was Meinrad Schär, considered one of the first social and preventive medicine specialist in Switzerland. At the end of the 1950s, after returning from the USA where he obtained a MPH, he became vice-director of the Swiss Federal Health Office (today's Federal Office of Public Health) and received a lectureship at the University of Zurich. At the beginning of the 1960s, together with the head of the Federal Department of Home Affairs, Federal Councillor Tschudi, he developed a decree that introduced social and preventive medicine as a new examination subject for the medical state examination. In 1964, the Federal Council passed the corresponding resolution, and in 1968 the medical faculties had to examine the subject for the first time.
Zurich, Lausanne and Geneva set up new institutes in view of the new teaching task, while in Bern Meinrad Schär initially fulfilled a teaching assignment from Zurich as a transitional solution.
In April 1971, on the basis of a resolution passed by the government council in December 1970, the Bern Institute was established. Prof. Theodor Abelin took office as the first head of the institute following a successful career at the Harvard School of Public Health (today they remain one of our key international partners). Prof. Abelin lead the institute until his retirement in 2000.
On 1 May 2002, the Government Council of the Canton of Bern appointed Prof. Dr. med. Matthias Egger as full professor of epidemiology and public health and the new director of ISPM. After studying medicine in Bern and undergoing clinical training in surgery, paediatrics and internal medicine, Matthias Egger trained as a British Council scholar at the London School of Hygiene & Tropical Medicine, receiving a Master's degree in Epidemiology, and subsequently researched and taught in the UK at the University College London, Glasgow University, Bern (Institute of Social and Preventive Medicine, as part of a PROSPER scholarship from the Swiss National Science Foundation) and, as part of an EU project, in Nicaragua for several years, Glasgow University), Bern (Institute of Social and Preventive Medicine, as part of a PROSPER grant from the Swiss National Science Foundation) and, as part of an EU project, for several years in Nicaragua.
Since 1999, Matthias Egger has worked at the University of Bristol, where he headed the Division of Health Services Research in the Department of Social Medicine and was promoted to Professor of Clinical Epidemiology.
His research interests include methodological issues in clinical epidemiology and biostatistics, as well as applied issues in health systems research, socio-economic factors and health, and sexually transmitted infections, particularly HIV/AIDS.
Matthias Egger is a member of the Faculty of Public Health Medicine of the Royal College of Physicians, London, is active in various international working groups, and is a much sought-after expert in the field. He is active in numerous international working groups and is a much sought-after reviewer. In 2017, Prof. Egger was appointed President of the National Research Council of the Swiss National Science Foundation. Following this, he stepped down as director of ISPM, but remains a prominent member of our academic community.
ISPM vision 2030
In 2018, Oscar Franco, became director of ISPM. He is originally from Colombia where he trained as medical doctor at the Pontificia Universidad Javeriana. After obtaining his degree in medicine, Professor Franco trained as clinical epidemiologist and public health scientist at ErasmusMC in the Netherlands. Subsequently, Prof. Franco, worked for Unilever, the University of Warwick and the University of Cambridge in the United Kingdom. At the University of Cambridge, he worked as Clinical Lecturer, trained as Public Health consultant, and lead the MPhil in Public Health before returning to the Netherlands in 2012. At ErasmusMC, he was a Professor of Preventive Medicine, Principal Investigator of Cardiovascular Epidemiology, and founded and directed a new center on ageing research, ErasmusAGE.
Upon joining ISPM, Prof Franco launched ISPM2030, a new vision for ISPM. In this vision, fuelled by input from all members of the institute, we expand our research and efforts to address the great challenges that humankind and public health face in 2021 and will likely continue to face in the coming years, including planetary health, pandemics of infectious diseases and cardiometabolic conditions and the overall demographic shifts of the world, which has resulted in rapid and early ageing of the population, among others. Within this framework, we maintain a lifecourse perspective in the prevention of diseases and in assessing the social and biological determinants of health.
ISPM has an ample legacy, which has prepared us more than ever to continue to face and resolve the problems of today and tomorrow using the knowledge and expertise accumulated throughout the decades.
ISPM is prevention today and tomorrow.